**Cashback of €30 Available fron Canon**
Sleek, with the Power to Perform
Wonderfully lightweight and compact, the EOS M3 is both stylish and speedy while including a host of proven EOS controls. It can be appealing to anyone who appreciates a portable, mirrorless body but wants interchangeable lenses, a large sensor and the manual controls and image quality associated with the EOS line. Similarly, for photographers used to carrying larger SLR cameras who want something smaller as a companion or as a solo camera, the EOS M3 operates and performs similarly to SLRs in the EOS system. In addition to EF-M series Lenses, it's also compatible with a number of EOS accessories including EF Lenses*, Speedlites and more for powerful, seamless EOS operation that's incredibly portable.
24.2 Megapixel Sensor
The EOS M3 features a 24.2 Megapixel (APS-C) sensor capable of capturing large image and movie files. At 24.2 Megapixels, the EOS M's sensor delivers images suitable for enlargements with sufficient resolution for significant trimming. Whether making poster-sized prints, zooming in on a particular detail or making Full HD movies, the EOS M3's sensor is primed to deliver. An ISO range of 100–12800 (expandable to 25600) means images can be captured with low noise and high detail, even in dimly lit situations.
Consistent, Spot-on AF
A fusion of AF technologies designed to quickly achieve and maintain AF, the EOS M3's Hybrid CMOS AF III system is impressively fast, delivering comprehensive and accurate AF coverage over approximately 80% (vertical) and 70% (horizontal) of the entire image. With an optimized phase difference AF sensor built into the EOS M3's CMOS sensor's individual pixels, along with a secondary contrast detection system, the EOS M3's focus system is equipped to focus quickly and accurately in many situations.
Fast, Intuitive Controls
Capable of creating superb stills and movies automatically, the EOS M3 offers a number of control options for speedy manual operation. The camera features a Front Dial that's placed directly around the shutter button and is complemented by a dedicated Exposure Compensation Dial positioned within easy reach of the camera's thumb grip. In addition, the EOS M3 has numerous custom functions, including user-programmable shortcuts, customizable buttons and much, much more. It's comfortable to hold, with a fluid and ergonomic design that's familiar to EOS users.
3.0'' Tilt-type LCD Monitor
The EOS M3 has a large, high-resolution, 3.0'' LCD monitor that tilts up 180º and down 45º, ideal for composing not only self portraits, but also for taking pictures at high and low angles with ease.
Secure Online Shopping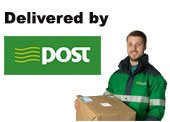 Next working day delivery within Ireland
Gift Vouchers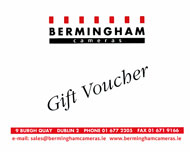 Gift vouchers available online!