Cokin
COKIN - The original square filter system.
Only few years ago, photographers and videographers were asking for special effect filters. Today they ask for COKIN filters.
Keywords are simplicity and rapidity of use, leaving full room for your individual inspiration and creativity. The efficiency of the COKIN System has already convinced millions of photographers and videographers worldwide,
you are the next !
The Universal COKIN FILTER-HOLDERS are adaptable to all lenses, thanks to a simple adaptor ring.
Gift Vouchers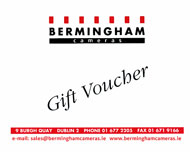 Gift vouchers available online!