Introduction
New optical design: advanced 5-element/4-group optical design incorporating ultra-high index tantalum-based optical glass to achieve extraordinary optical performance with improved corner sharpness, distortion and reduced vignetting.Like the revolutionary original Metabones Speed Booster announced in January 2013, the Speed Booster ULTRA has a magnification of 0.71x, and so it effectively reduces the crop factor of mirrorless cameras with DX-sized sensors.such as Sony E-mount and Fuji X-mount cameras, from 1.5x to 1.07x. However, the new ULTRA design makes very effective use of exotic materials at the furthest limit of glassmaking technology, and as a result is well corrected for use with virtually all full frame SLR lenses regardless of exit pupil distance. Thus, the Speed Booster ULTRA performs extremely well with professional-grade f/2.8 zoom lenses such as the 24-70mm f/2.8 and 70-200mm f/2.8 zooms by Canon and Nikon to produce 17-50mm f/2.0 and 50-142mm f/2.0 high-speed zooms, respectively. Similarly, high-speed fixed focal length lenses such as a 50mm f/1.2 will be transformed into a 35.5mm f/0.9 lens with excellent contrast and resolution from the centre all the way to the edges of the image.
Increase maximum aperture by 1 stop.
Increase MTF.
Makes lens 0.71x wider.
Advanced 5-element/4-group optical design incorporating ultra-high index tantalum-based optical glass by Caldwell Photographic in the USA (patent pending).
Electronic integration of aperture diaphragm, controlled by or from the camera body.
Partial autofocus support for late-model (post-2006) Canon-brand lenses.
Powered by camera body. No external power source required.
High performance 32-bit processor and efficient switched-mode power supply.
The tripod foot is detachable and compatible with Arca Swiss, Markins, Photo Clam ball heads.
Flocking material coating inside the inner hole to reduce the internal reflection.
Note:
Requires lenses supporting distance information.
Autofocus disabled for Contax N and Contax 645 lenses.
A third party zoom lens may need to be registered with the Smart Adapter first in order to detect its maximum aperture. Autofocus is disabled for most third-party lenses.
This Speed Booster ULTRA is designed to cover an APS-C image circle which is not big enough to cover a full-size 36mm x 24mm sensor.
Sony NEX cameras cannot display aperture values beyond f/1.0. If a f/1.2 Canon EF lens is used with Speed Booster ULTRA the resulting aperture is f/0.9 but the camera body displays the original aperture f/1.2 to the camera body. i.e, lenses slower than f/1.4 report boosted aperture to camera body; lenses at or faster than f/1.4 report original aperture to camera body. (with firmware later than V0.38)
Some improperly-made M42 screw mount adapters may short the electronic contacts of the Speed Booster ULTRA and cause damage to the Speed Booster ULTRA and/or camera body.
Many manual focus lenses (e.g. OM 28/2.8, OM 50/1.8, Leica R 15/3.5) have rear protrusions (spikes, levers, other appendages) which would damage the optics and/or housing of Speed Booster ULTRA They need to be modified before they can be safely used on Speed Booster Check and make sure there are no rear protrusions from the adapter/lens combination before using on Speed Booster. Scratches and damages caused by rear protrusions on Speed Booster are not covered by warranty.
Some telephoto lenses such as the Leica-R Telyt 560/5.6 may have significant vignetting in the corners.
This Speed Booster ULTRA is NOT fully compatible with full-frame Sony A7, A7R and A7S. When Speed Booster® ULTRA is used with Sony A7, A7R and A7S, the camera will turn on the "APS-C Size Capture" mode automatically.
Autofocus
Autofocus speed is very slow and inadequate for most moving subjects. The autofocus speed is unfit for professional use for sure, and it would disappoint most enthusiasts.
Only Canon-branded lenses introduced in or after 2006 are officially supported. Autofocus is disabled for older Canon lenses and most third-party lenses, including most Sigma, Tamron and Tokina lenses and all Contax N lenses modified by Conurus. On FS series (e.g. FS7, FS700, FS100), autofocus may be available only in photo mode but not in movie capture mode.
Continuous AF is not supported.
DMF mode (direct manual focus) is not supported.
For non-camcorder camera bodies (e.g. NEX-7), during movie capture, if the subject moves to a different distance, half-press the shutter release button to re-activate autofocus and lock onto the subject again. Since autofocus speed is slow, there may be visible disruption in the resulting footage.
The first two autofocus attempts are used to calibrate the lens and as a result may not lock successfully on the target. Half-press the shutter release button again and autofocus will lock successfully.
Autofocus may have difficultly locking onto subjects which are very close to the nearest focusing distance of the lens.
Lenses with hidden problems which may not be apparent on Canon DSLRs will lead to inaccurate and unreliable autofocus on Sony NEX.
Secure Online Shopping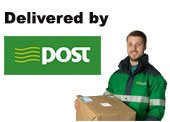 Next working day delivery within Ireland
Gift Vouchers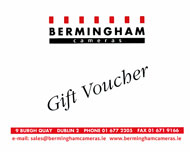 Gift vouchers available online!