Designed to delight design aficionados and camera purists alike, the Nikon Df is a new
kind of D-SLR dedicated to pure photography.
Inspired by Nikon's classic 35 mm film cameras, but boasting technology from the latest
professional flagship D-SLRs, the Nikon Df expresses a passion for photography in both
form and function. It's perfect for dedicated photographers who love to meticulously work
through concepts and ideas.
16.2-megapixel FX-format (full-frame) CMOS sensor: Equipped with the same image
sensor as Nikon's flagship D4, the Nikon Df offers exquisitely detailed images with smooth
tonal gradations.
Phenomenal light sensitivity: With ISO 100–12,800, extendable up to 204,800
(equivalent).
High-speed performance: Approximately 0.14 s* start-up time and 0.052 s* shutter
release time lag. Offers up to 5.5 fps in both FX and DX formats.
Multi-CAM 4800 39-point AF system: Sensitive down to −1 EV and compatible with
lenses up to f/8 combined open aperture.
Elegant mechanical dials: Comfort meets control with knurled mechanical dials that
allow you to set ISO sensitivity, exposure compensation, exposure mode, and release
mode independently.
Compatible with non-AI NIKKOR lenses: A unique collapsible metering coupling lever
lets you attach even your vintage non-AI NIKKOR lenses to the Nikon Df.
Full-frame portability: The most compact and lightweight model in Nikon's current
FX-format lineup. The body weighs just 710 g (approximately) and is weather-sealed to the
same degree as the D800.
Special edition NIKKOR lens: Supplied with a re-styled version of the popular AF-S
50 mm f/1.8 NIKKOR lens, now boasting a retro look-and-feel to complement the specially
designed Nikon Df.
Secure Online Shopping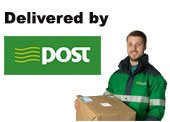 Next working day delivery within Ireland
Gift Vouchers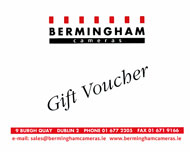 Gift vouchers available online!